With Christmas less than two weeks away, I'm feeling the pressure to finish up my shopping. Family gifts aren't hard for me, Grandparent and bachelor brother ones are. Hmmm, I wonder why? :)
Need a gift for a family on your list? Read on. Here's a compilation of a few things our family has benefited from.
Coming from the mom perspective, this
mitten tree
I received for my birthday is a must-have for any family living in a snowy wonderland. No more wet hats and mittens lying all over the floor, and no more wet mittens when its time to head out into the cold again.
1.
2.
1. Our summer vacations usually consist of road trips, and I have to say this
family car organizer
looks like something that would be worth it's weight in gold. I hope I am not the only one with
a cluttered, messy van every road trip
that thought.
2. Our portable DVD player was a life saver on road trips (now our van has one built in).
1.
2.
3.
1. It has a funny title, but this is the one game my kids request regularly, whether we're at the table or not.
Dinner Games
gets everyone involved (even my anti-board game hubby!), creates lots of laughs, and encourages creative story telling. We received the beginner version as a gift years ago and still love it.
2. Family game nights are a great idea, so why not create a box or basket to get the party started?
3. Outdoor games such as croquet or bocce ball are great ways to get everybody moving, from the littlest ones to the grandparents.
1.
2.
3.
4.
Reading before bed is one of my fondest memories as a child, and one I am passing on to my own children.
1. We love reading about life on the prairie in
Laura Ingalls Wilder books
. I'm love re-reading this series.
2. The
Magic Tree House series
is something that interests both my four year old and my eight year old. And the fact that these books are educational as well as fun is like icing on the cake.
3.
Highlights and the new High Five magazines
get devoured in this household. Or rather they did. I need to renew our subscriptions!
4. Who doesn't get a laugh out of
The Family Circus
or Baby Blues comic library books?!?
1.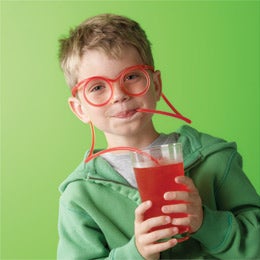 2.
3.
1. These crazy straws look like pure fun. I would not like to clean them, but I know my kids would love to drink from them (and now I can't find where these are sold)! Birthday party anyone?
2. Staying hydrated is a constant challenge around here. I've found (especially in the summer time) that it works best if each kid has their own special water bottle to tote around when we're out and about and when they're just playing in the back yard. It means less trips to refill (water bottles pictured from water.org, tupperware, and camelbak).
3. We don't have
these plates,
but I know they'd be a big hit. I wonder though, how many moms get fed up with the kids playing with their food on them? :)
Memberships to local zoos or museums are a great gift for a family that will get used over and over again and will be enjoyed by everyone. You can't beat the gift of an educational experience!
So there you have it, a list of some of the things my family loves (or would love).
I hope it's inspirational!